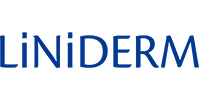 Keeping redness at bay
At birth, a baby's skin barrier is much thinner than that of adults, which makes it very fragile and very permeable.
With its LINIDERM oleo-limestone liniment, Laboratoires Gilbert have created an everyday solution to thoroughly clean and effectively protect baby's bottom. Made from lime water and virgin olive oil, this rinse -free nappy-change treatment forms a protective film that strengthens the cutaneous barrier and preserves the natural pH of the skin, thus preventing nappy rash.
*This medical device is a healthcare product which bears CE marking, in accordance with regulations.