International sales currently represent 30 % of the turnover of Laboratoires Gilbert. The company is constantly seeking new partners and distributors abroad.
The Normandy -based laboratory has a team of specialists in each geographical area to develop and adapt the products to suit the market requirements, culture, legislation and distribution networks specific to each country .
We are devoted to creating solid partnerships with specialist firms and leaders in their market. These are both local organisations and multinationals.
Building on our worldwide presence in 86 countries, we aim to consolidate our position on the international stage through our existing subsidiary strategy. This enables us to be right at the heart of the foreign markets in order to gain a better understanding of requirements and offer tailor-made support :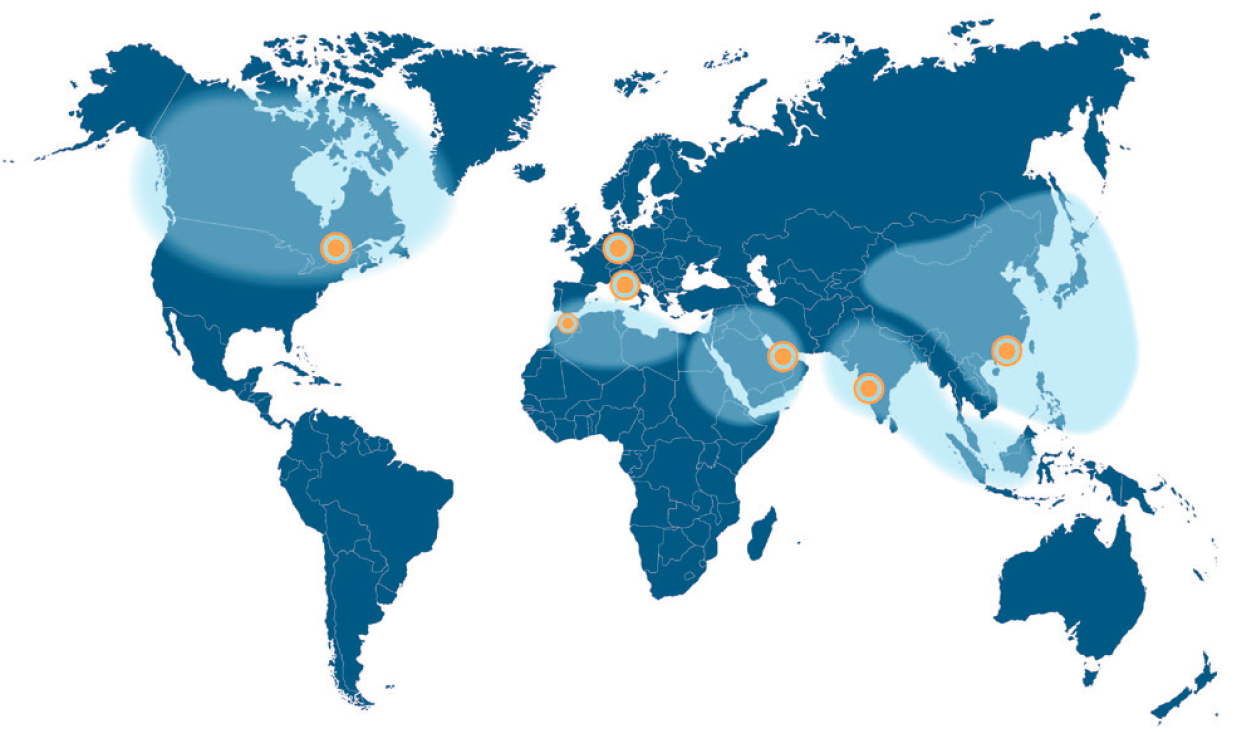 THE SUBSIDIARIES
CHINA
Operating in Hong Kong for over 20 years, this subsidiary is consolidating the position in the Asian and Pacific zone of Laboratoires Gilbert's leading brands such as Algotherm, Physiolac and even Le Comptoir du Bain.
Groupe Batteur Hong Kong
Unit D, 22/F World Trust Tower 50, Stanley Street, Central
HONG KONG, CHINE
BELGIUM
Located in Lessines, this Belgian subsidiary has overseen the marketing of our products in pharmacies, health and beauty shops as well as specialist shops in Belgium and Luxembourg for almost 20 years.
Laboratoires Gilbert Benelux
Zoning Ouest 16,
7860 LESSINES, BELGIQUE
ITALY
Since 2003, this Laboratoires Gilbert subsidiary has marketed our products in Italy and carried out toll-manufacturing from formulation to product manufacture for other brands.
Located in Parma, it specialises in the Italian pharmacy, natural health and beauty, herbal remedy, cosmetic and perfumery markets.

Groupe Batteur Italie
Via Mansfield
43122 PARMA, ITALIE
MIDDLE EAST
Opened in 2013, this sales office located in Dubai, enables Laboratoires Gilbert to provide appropriate commercial and marketing support based on a clearer understanding of Middle-Eastern pharmaceutical and cosmetic markets.
Laboratoires Gilbert Middle East JLT
Jumeirah lakes Tower, Cluster F
HDS Tower, Office 804
DUBAÏ, EMIRATES ARABES UNIS

NORTH AMERICA
The Canadian subsidiary of Laboratoires Gilbert markets well-being and self-medication products for the entire family in Canada and the United States.
Opened in 2016, this subsidiary located right in the heart of Montreal, markets 3 leading trademarks: Le Comptoir Aroma, Marimer and Algotherm. It also provides toll-manufacturing facilities for its local clients.

Groupe Batteur Amérique du Nord
4020, Saint Ambroise, bureau 100, H4C 2C7
MONTREAL - QUÉBEC , CANADA
MOROCCO
Opened in 2016 and boasting its own high-performance, reactive, logistics platform, this subsidiary serves all Moroccan towns and offers a full business development service for its pharmaceutical and health and beauty partners.
Laboratoires Gilbert Maroc
22 rue Annajaf, résidence Al Manar
Quartier Derb Ghalef - Maarif
CASABLANCA, MAROC

INDIA
2018 marks the opening of our Indian subsidiary. The aim of this New Delhi joint venture is to consolidate the position of the Algotherm brand on the Indian luxury cosmetics market and to offer a beautician training course with the focus on using brand products in the Beauty Salons.

Gilbert Jain Laboratory Private Limited
60/11 old Rajinder Nagar
DELHI, CENTRAL DELHI – 110060
INDE