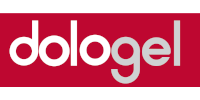 For their nights and yours...
With its Dologel, Laboratoires Gilbert have created an everyday solution for comforting baby when teething or suffering from other irritation or mouth lesions.
Paediatrically controlled, this product soothes irritated gums in the event of painful teething.
Its formula comprises 3 plants that have been carefully selected for their renowned properties that are ideal for teething:
Camomile (anti-inflammatory)
Valerian (soothing)
Propolis (anti-bacterial)
*This medical device is a healthcare product which bears CE marking, in accordance with regulations.