We are committed to selecting the finest ingredients for our formulas and offer solutions that are adapted in accordance with humans and their environment.
Our formulas are produced with the finest combination of active substances selected for their purity, quality and biological similarity to maximise efficacy and tolerance.
A highly qualified Research & Development team produces eight formulas on average per day in its laboratory. Laboratoires Gilbert also calls on acknowledged partners, at the cutting edge of their profession, in terms of formulation or active substance extraction, to promote the synergy of skills.
We systematically decide to give preference to key essential compositions in the rigorous application process and in compliance with our chain of values.
Checks are performed at every stage, from design through to formula distribution via assembly and production, to ensure the flawless traceability of all our products.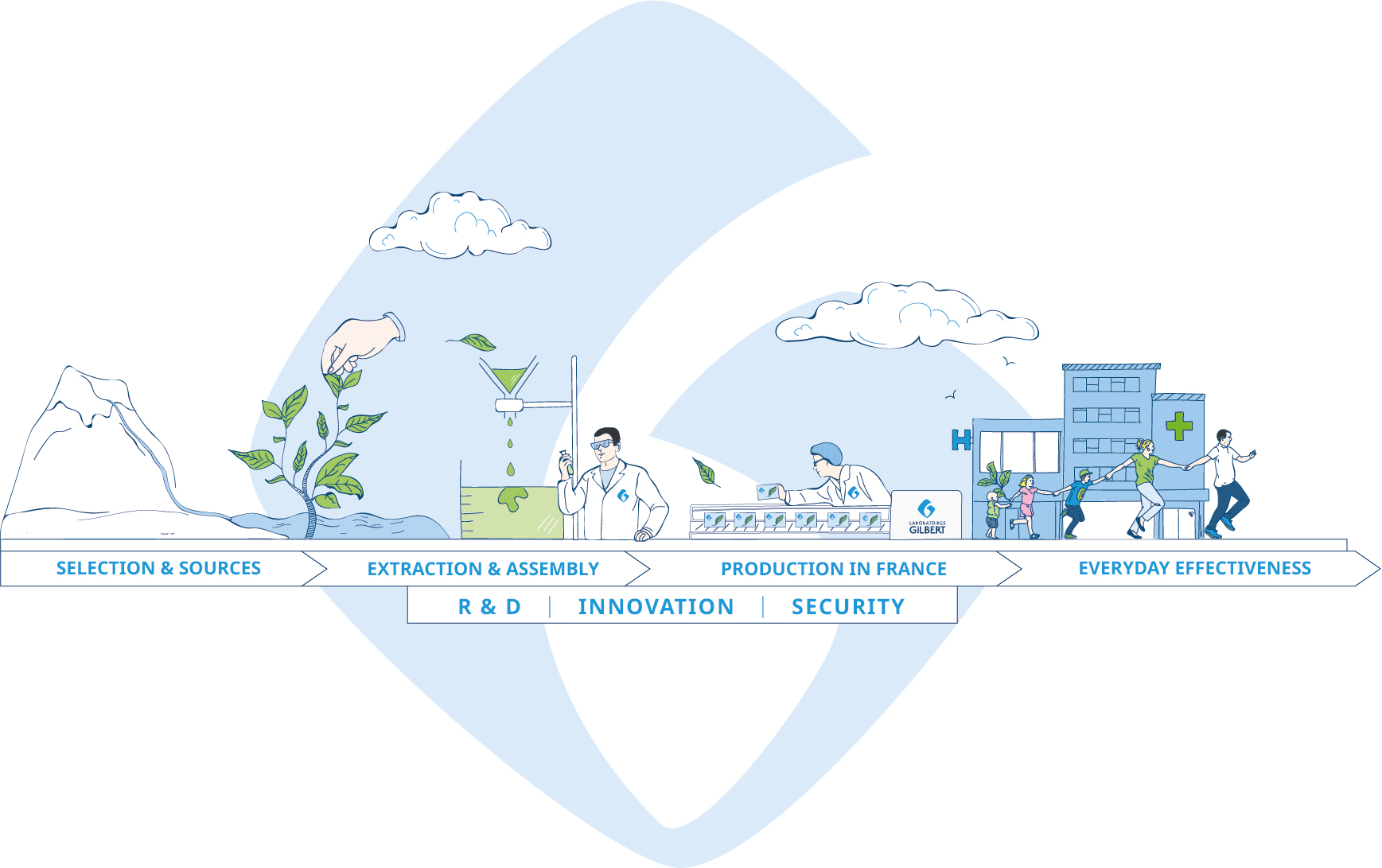 Professional interactions

Convinced that pooling expertise is vital for innovation, Laboratoires Gilbert has forged strong partnerships and works in close collaboration with health professionals, who are experts in their areas (ENT specialists, pharmacists, aromatherapists, nutritionists, dermatologists and paediatricians, etc.) to propose high-quality products and respond to all problems.
Laboratoires Gilbert is a member of several professional organisations that aim to share best practices and to monitor regulatory changes:
| | | |
| --- | --- | --- |
| Member of LEEM (Trade Association of the Medicines Industry) | Member of COSMED - the Association of Small and Medium-Sized Companies operating in the Cosmetics Sector | Member of the European Centre of Dermocosmetology |
| Member of the Syndicat National des Compléments Alimentaires (French National Syndicate of Food Supplements) | Member of the Société Française de Cosmétologie (French Cosmetology Society) | Member of ECHAMP (European Coalition on Homeopathic & Antroposophic) |
| Member of Alliance 7, Syndicat Français des Aliments de l'Enfance (Children's Food Sector) | Member of the Association Française de l'Industrie Pharmaceutique pour une Automédication Responsable (French Association of the Pharmaceutical Industry for Responsible Self-Medication) | Partner of the Association Française des Auxiliaires de Puériculture (French Association of Child Care Assistants) |
An environmentally responsible attitude

In order to respect the environment, which is the source of our inspiration and the raw materials used to develop our products, we have undertaken to adopt an environmentally responsible attitude in the methods used to harvest and transform the natural active substances used.

Laboratoires Gilbert helps to protect the environment by sorting its industrial waste. Indeed, we undertake to analyse the environmental impact of our production processes in an attempt to reduce them.