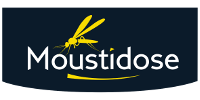 Stops mosquitoesin their tracks!
Tough on mosquitoes but gentle on the skin
In addition to the painful bites that mosquitoes inflict, they are a carrier for the transmission of infectious diseases to humans.
Present in virtually all parts of the world, their bite can lead to serious diseases including malaria, chikungunya, dengue fever, yellow fever and the zika virus, etc.

To meet the needs of families for effective protection against mosquitoes all over the world, MOUSTIDOSE has, for almost 30 years, concentrated its Research & Development efforts on developing insect repellents and soothing treatments (for application after a mosquito bite) that are both effective and gentle on the skin.