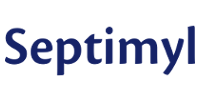 Take careof your skin
A scratch, a scrape, irritated skin and even the tiniest cut should be attended to immediately. That is why Laboratoires GILBERT created Septimyl.
Septimyl offers saturated compresses to clean the superficial wounds of the entire family. The compress can remove debris and exudate from wounds. This solution helps to prevent microbial and bacterial infection.
It can be used any time, any place, anywhere thanks to its practical, single-pack format!


*This medical device is a healthcare product which bears CE marking, in accordance with regulations.